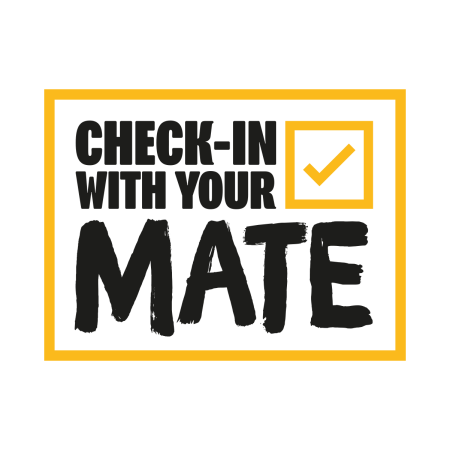 Get the support you need in Bradford
Anyone can feel low, alone and even suicidal.
Check-in with your mates, and give them the support they need.
Remember, you don't need to have all the answers to help your mate.
Below, you can find links to support services in Bradford.

If you or a mate need help urgently, please click here.
Creating Hope Through Language
The West Yorkshire Suicide Prevention Programme has created a language advice guide called 'Creating Hope Through Language', offering advice on what to say/what not to say.
Warning signs and what to say
Guidance, called the Ask, Assist, Act, provides information about the signs that someone might be feeling suicidal and what you can say to help them. It has been created by MECC Link - Making Every Contact Count (MECC) Community of Improvement, a network supported by Yorkshire and Humber Public Health.
'20 minutes to save a life' video
Watch a 20-minute suicide awareness video from Zero Suicide Alliance (viewable on smart phones).
New Vision Bradford
New Vision Bradford provides a free, confidential drug and alcohol support service for adults, families and concerned others across the Bradford district, including Keighley, Bingley, Ilkley and Shipley. It provides information, advice and support to anyone concerned about their drug or alcohol use, or who is worried about someone else's. People can be referred from their GP or can self-refer by calling 01274 296023 or using the secure form on the website.

Project 6
Project 6 is a voluntary sector drug and alcohol charity working across Yorkshire in Keighley, Sheffield and Doncaster.
West Yorkshire Suicide Bereavement Service
West Yorshire Suicide Bereavement Service provides practical and emotional support to people who have been affected by a suicide bereavement.

Bradford Bereavement Support
Bradford Bereavement Support is a bereavement service to the people of the Bradford District area, run by a small team of staff alongside our dedicated volunteers and management committee. . The service provides bereavement counselling and a monthly peer support group to anyone living in Bradford aged 18 or over. Contact them via the website or by email info@bradfordbereavement.org.uk or phone 01274 619522.
Bradford District domestic abuse and sexual violence information
The BFDDASV website brings together the various organisations across Bradford which provide advice and support to victims and survivors of domestic abuse.
NHS Northern Gambling Service
The NHS Northern Gambling Service provides specialist addiction therapy and recovery to people affected by gambling addiction, as well as those with mental health problems. They also provide help to people close to those with gambling addiction. They have clinics in Leeds, Sunderland and Manchester.

Bradford City Council
Information about gambling support services, help with finances, banking options, self-exclusion services and apps can be found on the City Of Bradford Metropolitan District Council gambling webpage.
Andy's Man Club
Andy's Man Club offers real, non-judgmental, talking groups for men aged 18+. The charity is based nationally across the UK. They meet every Monday at 7pm (except on bank holidays).

Getting Help In The Bradford District
A video from Sharing Voices in Bradford highlighting the importance of getting help during times of need.

Offload - Rugby League Cares
The Offload project involves men engaging with current and former players to learn the techniques clubs use to manage players' mental and physical fitness.
Bradford: Wednesdays 6.30pm (from 27 October 2021) – Odsal Stadium, BD6 1BS.

It's Worth Talking About
It's Worth Talking About are support groups operating in Keighley, Bingley, Haworth, Cross Roads & Saltaire​​​​​​. They are a not-for-profit, volunteer led, peer support service aimed at anyone who feels like they might need to talk about their life struggles to improve their wellbeing.

Men's Shed
Men's Sheds are community spaces for men to connect, converse and create. The activities are often for groups of men to enjoy together. They help reduce loneliness and isolation nationally across the UK.
Men in Health - for male staff members in health, social care and VCSE
Men in Health supports all male staff working in health, social care and VCSE organisations. The project offers 1-2-1 support and will be able to direct peopel to services, activities and organisations across West Yorkshire.
First Response crisis support
First Response crisis service offers support 24 hours a day, seven days a week, to people of all ages experiencing a mental health crisis.
Freephone: 0800 952 1181
Accessing First Response via British Sign Language Health - A5-Flyer-BSL-Health-Access.pdf (bdct.nhs.uk)

Safe Spaces
Safe Spaces crisis support service for anyone in mental health distress aged seven or over. If you/someone you know is in distress (severe anxiety/panic attacks), suicidal thoughts or intense depression:
Call First Response on 0800 952 1181 and ask for 'Safe Spaces'.
The service is a collaboration between Mind in Bradford and the Cellar Trust. It offers one-to-one same-day support in-person at Safe Spaces Hubs in Bradford and Keighley for children and adults and a homely place to stay overnight for children and young people aged seven to 17. There are also drop-in crisis cafes located across the district.

Support For Bradford Council Staff
An employee of Bradford council and need mental health support? These last couple of years have been tough. Now is the time to consider your own needs, telephone 0300 456 8114, email Mhsupport@remploy.co.uk or fill out this online form.

The Cellar Trust
The Cellar Trust supports people with mental health problems, across the Bradford district, to move forward in their recovery and live independent, fulfilling lives.
Phone: 01274 586474 or email mail@thecellartrust.org

Guide-Line
Guide-Line is a confidential telephone helpline that provides mental health support and information for anyone of any age, who lives in Bradford, Airedale, Wharfedale or Craven and feels in need of support.
Freephone: 08001 884 884 (available 12pm-12am, 7 days a week, 365 days a year
Live chat (available 3pm-8pm, 7 days a week, 365 days a year).

Healthy Minds
Healthy Minds is the single point of access for all in Bradford and Craven to look after their minds. Its wellbeing resources cover a range of topics and provide self-help materials to help people understand and improve their thoughts and feelings.

PeerTalk
PeerTalk provides weekly volunteer facilitated peer support groups for people living with depression, anxiety and other emotional distress.

QWELL
Online and text support. A safe and confidential space for those age 18 and over to share thoughts and feelings and get support from qualified professionals.
Visit Qwell.

It's Worth Talking About
#ItsWorthTalkingAbout is to provide safe, confidential spaces for men and women to come and talk about anything that is affecting their wellbeing, mental health or quality of life.
Harmless
Harmless is a user-led organisation that provides a range of services about self-harm and suicide prevention including support, information, training and consultancy to people who self-harm and those at risk of suicide. They also offer support and training to service users' friends, families and professionals who are involved in their care.

Battle Scars
Battle Scars provides virtual peer support group for anybody affected by self-harm: those who self-harm and those supporting them.

Self Harm Support for Young People
Combat Stress
Combat Stress is a charity for veterans' mental health. They help former servicemen and women deal with issues like post-traumatic stress disorder (PTSD), anxiety and depression. Freephone: 0800 138 1619 (available 24 hours a day, 365 days a year).

Veterans Mental Health Complex Treatment Service
Veterans Mental Health Complex Treatment Service provides an enhanced service for military veterans who have service attributable, complex mental health problems many of whom will have experienced trauma, which has not been resolved earlier in the care/support pathway.

Bradford Council's support page
Bradford Council has information about support available for the Armed Forces community, including housing, employment, benefits, bereavement, family support and health services.
Bradford's Cost of Living website
Bradford's Cost of Living website provides information and advice about government support, energy and bills, housing support, food and warm spaces. It is a partnership campaign between Community Action Bradford & District, City of Bradford Metropolitan District Council, and Bradford District and Craven Health and Care Partnership (Act as One).
West Yorkshire Night Owls Helpline
A confidential support line for children, young people, their parents, and carers. This service is available from 8pm to 8am.
Call 0800 1488 244 Text 07984 392700 or Live Chat

Safe Spaces
Safe Spaces crisis support service for anyone in mental health distress aged seven or over. If you/someone you know is in distress (severe anxiety/panic attacks), suicidal thoughts or intense depression:
Call First Response on 0800 952 1181 and ask for 'Safe Spaces'.
The service is a collaboration between Mind in Bradford and the Cellar Trust. It offers one-to-one same-day support in-person at Safe Spaces Hubs in Bradford and Keighley for children and adults and a homely place to stay overnight for children and young people aged seven to 17. There are also drop-in crisis cafes located across the district.

Kooth
Available for young people aged 11 to 18 living in Bradford, Airedale, Wharfedale and Craven. A safe space to connect with others and get support around your mental health and emotional well-being. Visit Kooth.

Child and Adolescent Mental Health Service (CAMHS)
Support from preschool age up to age 16, or age 18 if still in school. Referral via your GP or other heath professional. Visit CAMHS

Youth in Mind
Youth in Mind is a partnership of mental health and wellbeing organisations which deliver school, community and hospital-based support to children and young people aged 5-25 in Bradford District and Craven. Support can be accessed online and in-person and is also available to families and any professionals working with young people in the district.

Self Harm Support for Young People