Thousands of people have joined in and supported our 'Check In With Your Mate campaign' since its launch in May, according to early analysis of online activity. ​​​​​​​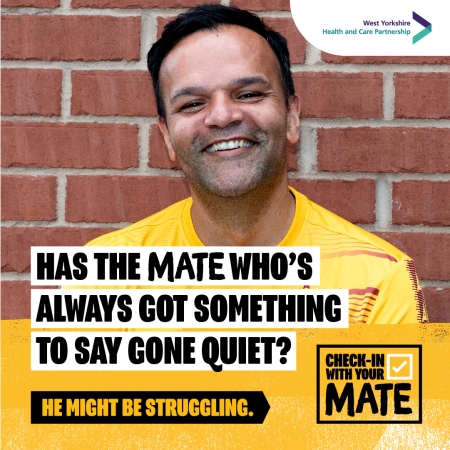 Through the use of striking downloadable social media graphics, website banners, posters and video call backgrounds, the campaign aims to encourage the normalisation of conversations around suicide and mental health among men, as well as signposting to local support.
An initial evaluation report has shown that in the first month alone, there were 860 posts on social media using the hashtag #CheckinWYM, reaching a total audience of 1.6 million people.
The analysis also shows that a four-week period of targeted advertising on Facebook and Instagram resulted in 4,023 clicks to the 'support in your area' section of the WYHCP's Suicide Prevention website (via checkinwithyourmate.co.uk).
Of those who engaged with that advertising, 67 per cent were male and nearly half of those were aged 35-44 – a target age group of the campaign.
Read the full July 2022 monitoring report here.
Please continue to download and share the campaign's resources at: www.staffcheck-in.co.uk/males