Revellers hitting the streets of Leeds this weekend for the return of the city's annual Pride parade will also be getting a timely reminder to 'check in with their mates' as part of our ongoing suicide prevention campaign.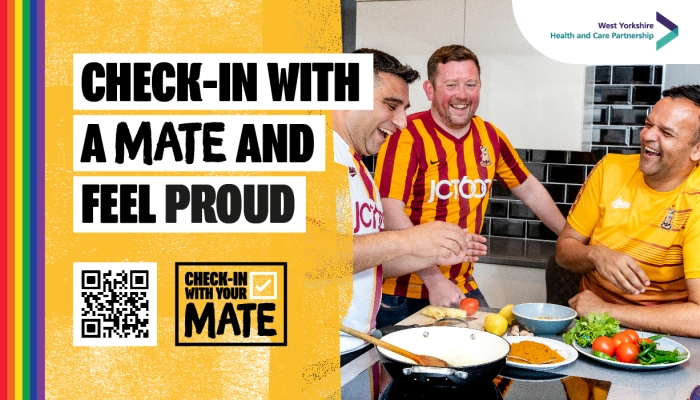 A special Pride-themed graphic has been created for our 'Check In With Your Mate' campaign – which encourages the normalisation of conversations around suicide and mental health among men – and will feature on large screens at the popular event this Sunday, August 7th.
Carrying the message to 'Check in with a mate and feel proud', and with added rainbow colours of the pride flag, the striking image also features a QR code which links to the 'support in your area' section of this website.
Jess Parker, project manager for WYHCP's Suicide Prevention Programme, said: "Being able to showcase our graphic on the big screen at Leeds Pride is great boost for our campaign and vital in continuing to raise awareness of the importance of talking and checking in on the people in our lives.
"We hope it is seen by all who join the celebrations on Sunday as it's really important the message reaches communities who traditionally may have felt excluded from mental health services or faced discrimination in their lives."
For more information on the Check In With Your Mate campaign and to download and share its resources, visit Check-in With Your Mate – Check-In (staffcheck-in.co.uk)